Vinyl Frame Patio Doors
Vinyl frames are made primarily from polyvinyl chloride (PVC). This material has many advantages, including being virtually maintenance-free. Not all vinyl window and door frames are created equally. There will be differences in the quality of one manufacturer's vinyl compared to another. This is because a vinyl frame is made from a compound—a recipe of sorts—that dictates its performance over time. Each additive to a company's vinyl recipe helps determine the long-term characteristics of the final product, like its weather and impact resistance. For example, titanium dioxide makes the vinyl more heat resistant. At first glance, competing windows may look the same, but there can be key differences in the vinyl recipe used and how vinyl parts are formed to make a window structurally strong and optimize insulation performance.
Why Vinyl Frames?
Exceptionally energy efficient

Durable

Non-corroding

Maintenance-free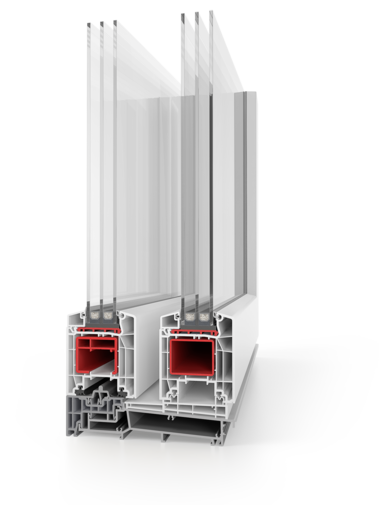 Lift and slide patio doors are the newest evolvement of the sliding door. Thanks to its intuitive engineering, lift and slide doors are easier to use and come with an extra layer of security because of the way they lock to the frame.
Because of their intuitive design, sliding patio doors are a popular choice for many homeowners because they let in light without protruding into your living space. This makes them a great option for rooms where space is limited.
These doors work well in areas with ample room for the door to swing freely without obstructing furniture because the hinge is located on the inside of the house and the door swings inwards. They also help maintain usable exterior space.
A great solution for expansive patio areas, the out-swing patio doors offer the same look of wider stiles and rails that you'll see in a sliding French door, but they swing outward on hinges that are located on the exterior of the home, allowing more room for furniture inside and creates a clean look to the interior frame.